Rika Keck
NY Integrated Health LLC
Founded 2006
News Alert:
HOW TO PREVENT LYME DISEASE PRESENTATIONS 2021 as part of the GLOBAL LYME ALLIANCE AMBASSADOR PROGRAM:
Camden Public Library , ME, March 30 at 6pmET (zoom)
After an accomplished professional Classical Ballet career in South Africa, Rika Keck moved to NY. Since 1997, she established herself as an expert in sport-specific exercise, post – surgery rehabilitation and posture correction. This included employment at the Peninsula Spa, NYC, as a Personal Trainer and Group Exercise Co-coordinator, and teaching of group classes at Equinox, Chelsea Piers and David Barton. Through her own experiences of past health challenges and a serious physical injury in 2019, Rika herself is witness to the positive and healing effects of physical and exercise rehabilitation.
In 2006, she founded NY Integrated Health, LLC, a holistic health coaching company. The mind-body philosophy incorporates customized physical, mental and emotional nourishment plans with a focus on education and self-empowerment. Incorporated are clinical evaluations, lifestyle assessments, specialized functional testing options, fertility health, and wellness coaching programs with chronic health concerns. She addresses the person as a whole, and is a trusted long-term health advocate for many of her clients (and their children).
Rika is also an invited guest blogger on various health blogs where she shares her expertise on a variety of health and nutrition topics.
Since 2007, Rika has been involved in the complex arena of sickness associated with Lyme disease and co-infections. This is also includes her knowledge regarding mold sickness, mold testing at home, viral and histamine challenges.
She has continued ongoing studies from leading Lyme-literate medical doctors, environmental, and international alternative treatment experts. In her health coaching practice, she is a trusted advocate for her clients, with whom she embarks on healing partnerships. Her husband' s two bouts of Lyme disease, and Babesia divergens, have made her commitment to working with Lyme disease and co-infections a personal passion.
Rika Keck is a proud member of ILADS (International Lyme and Associated Diseases Society.) She is also a founding member of The Global Lyme Alliance (GLA) ambassador education program. Before Covid-19, she was active in presenting GLA "How To Prevent Lyme Disease" in the Litchfield, CT, community.
With Covid-19, she has expanded her practice. Enhancing immune resilience and immune regulation is a mainstay in her health coaching practice, which is based on personalized and holistic therapies.
Rika is available for distance coaching and tele consultations. During Covid-19, she is available for Zoom presentations re Lyme disease prevention, and health consultations.
She enjoys public speaking opportunities (before Covid-19) and interactive workshop presentations where she can share her knowledge with passion, sincerity and a sense of humor.
In her spare time, she enjoys travelling, hiking in Nature and cooking at home, while also teaching a weekly spinning class. She now spends her time in Washington Depot, CT.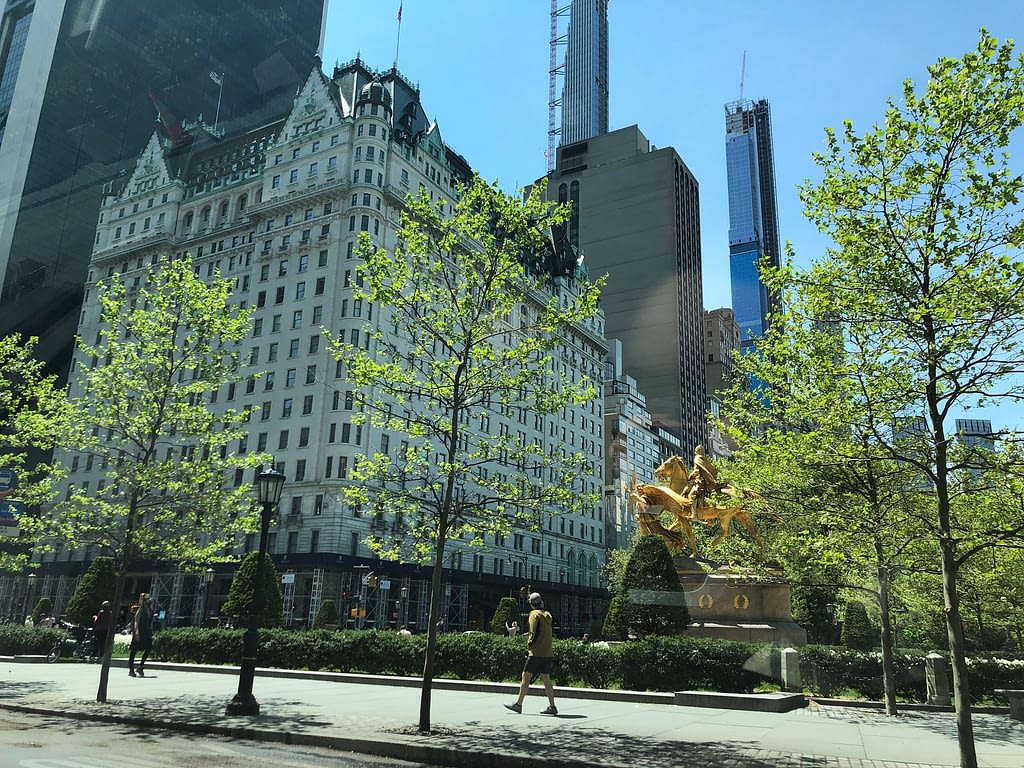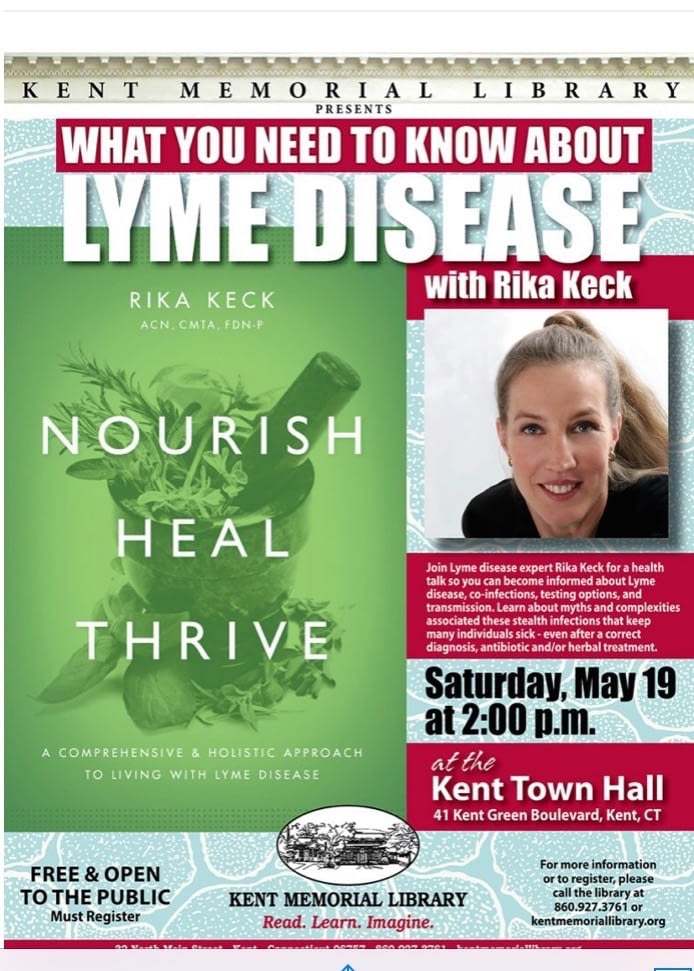 In addition Rika has authored
two books,
listed below.
NOURISH, HEAL, THRIVE: A comprehensive and holistic approach to living with Lyme disease. Available on Amazon / IBook's/ Barnes Noble online
NOURISH YOUR BRAIN cookbook: Terrific 60 recipes that energize, improve focus and stabilize blood sugar.
Rika Keck's
Certifications
Certified in Functional Diagnostic Nutrition®, FDN – P
Reed Davis, CN, FDN
Issued Jul 2013

Applied Clinical Nutrition
Texas Chiropractic College, Standard Process of Central Texas, approved by American Naturopathic Board
Issued Jan 2011

Certified Advanced Metabolic Typing®
The Healthexcel System of Metabolic Typing, Bill Wolcott
Issued Jan 2006

Chek Pracititioner Level 2
CHEK Institute, CA

Holistic Lifestyle Coach Level 3
CHEK Institute, CA
2021 The Forum of Integrative Medicine (virtual)
2020 Chronic infections and Mycotoxins (Bob Miller / Functional Genomic Conference, virtual)
ILADS Annual conference (virtual)
2020 The Forum of Integrative Medicine conference
2020 4th Annual Conference: Can Chronic Diseases Be Reversed?
2019 ILADS, Boston
2019 Functional Genomic Conference, Denver, Bob Miller
2019 Klinghardt Academy, NJ
2019 Great Plains: Advanced training for OAT / Mycotoxin testing, Boston
2018 AAEM Conference, Dallas
2018 The Forum for Integrative Medicine, Chicago
2018 ILADS, Chicago
American Academy of Environmental Medicine
ILADS 2016, International Lyme And Disease Society
ILADS Fort Lauderdale, 2015
Personalized Lifestyle Medicine, Dr. Jeffrey Bland, Chicago 2015
Women's Health: Mind-Mood
Weight-Loss Guide: Traditional Chinese Medicine
"Chronic Disease & Inflammation" Healthy Medicine Academy AZ
"Green Medicine", Peeka Trenkle New York Open Center
"Medical Intuition" Elaine Woodall, New York Open Center
'Supporting the Patient dealing with Cancer', Michael Gaeta
Applied Clinical Nutrition – 100 hour credits, Texas Chiropractic, Standard Process
Balancing Hormones: Cycling Women, Janet Lang.
Bioenergetic Methodologies: Energetics
CHEK Holistic Lifstyle Coaching level 1-3
Dietrich Klinghardt, MD, PhD: "Biological Medicine, February 2012′
Dietrich Klinghardt, MD, PhD:"Healing the Brain" – Biological Medicine, Brain Inflammation, NYC May 2013
Dr. Mark Hyman: Reversing the "Diabesity" Pandemic, may 2012
Enrolled in 'Functional Diagnostic Nutrition' course
Enrolled in 'Functional Diagnostic University' online course
Healthy Medicine Academy, AZ,: Integrative Cancer Medicine: "Clinical Applications of Cancer Strategies Symposium" April 2013
Healthy Medicine Academy: :Advances in Cancer Strategies Symposium" April, 2012
Phytotherapy for Skin Disorders, Rob Santich BHSc, MNHAA
Psych-K, basic level
Reiki Level 1-2