Rika Keck
Lyme Disease, Co-Infections and Toxic Mold Sickness
Welcome to this page.
Rika has been studying Lyme disease and co-infections since 2007. The first conference she attended was with Dr. Dietrich Klinghardt in NYC, and she still follows his teachings today. For many years, she has participated in conferences with, e.g. Dr. Lee Cowden, Dr. Horowitz, Dr. Anne Corson, Julie McIntyre (Stephen Harrod Buhner), Dr. Neil Nathan, and also attended multiple conferences with leading doctors in the vector-borne infection arena.
She is proud to be an ongoing member of ILADS (International Lyme and Associated Diseases Society), and a founding member of the Global Lyme Alliance. It is in the latter capacity that she reaches out to the local CT community with "Lyme Disease Prevention" health talks. She also has access to specialized Lyme and co-infection testing laboratories in the US and Europe.
Rika was personally affected with tick-borne infections. Her husband's was Lyme disease and Babesia divergens after a tick bite that was attached less than 12 hours.
In her health coaching practice, Rika's expertise in vector-borne infections and drug-free treatment modalities are highly valued by her clients. Many have been on antibiotic treatment in the past, but still were exhibiting ongoing symptoms.
It matters at what stage the correct diagnosis was made, and what emotional traumas, surgeries or stressful events occurred near the time – it is not just about the tick bite and Lyme disease.
After consulting with many clients, she felt the need to write her book: "Nourish, Thrive, Heal: A comprehensive and holistic guide to living with Lyme disease." This is a health-building blueprint that will support any Lyme disease treatment program (available on AMAZON)
As a health professional that has been active in the Lyme disease community for many years, Rika is able to collaborate with LLMD's (Lyme-Literate Medical Doctors)
A Brief Overview Of How Rika Partners With Her Clients:
Rika is clear before embarking on a holistic coaching program, that building-health is a long-term process. Clients value her expertise and her availability when they commit to a coaching program. Having a knowledgeable and trusted guide, who understands what is happening, helps to calm fears and anxiety.
Various challenges include: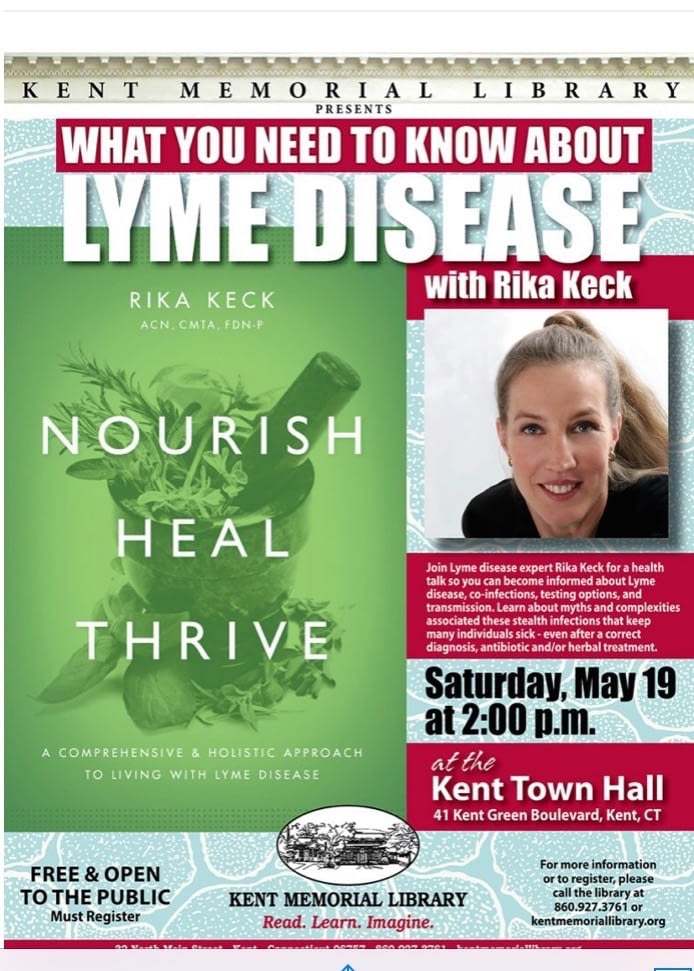 Toxic Mold Sickness:
"Is it Lyme disease, or is it mold that is keeping me sick?"
It is imperative to remove the sick individual from toxic mold exposure, or remediate: Health cannot be attained while living in a toxic environment. Eliminating exposure at home, school, or church is critical. The home must be checked, including the HVAC system, and other A/C systems where mold can accumulate. Car air conditioners can be another source of mold exposure.
Rika will assist clients in: